How Do I Start?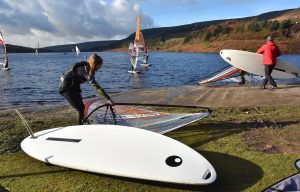 Torside Reservoir is a superb windsurfing venue. The prevailing winds blow along the length of the lake, with more sheltered areas on the southern shore, making the reservoir suitable for beginners and experts alike.
Glossop Sailing Club is an RYA Windsurfing Training Centre, and you can join one of our novice or improver training courses. The RYA website has details.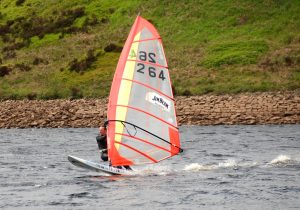 Adult training courses are run from our site at Torside Reservoir, usually last the equivalent of two days (some
courses may be 4 x half days) and are led by qualified RYA instructors. The course fee covers all instruction, use of training equipment, wet suit, spray top and buoyancy aid. RYA log books plus certificate will be issued upon successful completion. The maximum student to instructor ratio is 6:1.
The club is a great place for progressing to short-board sailing and carving gybes, and once you have the confidence, you can buddy sail with our other windsurfers. Even when the dinghies are out racing, there is plenty of space to practice new tricks.
Boards & Rigs
We'll start you off on a wide stable board and vary the sail area in tune with the wind strength. As your skills progress, you'll want to try bigger more powerful rigs and smaller more agile boards. The club has a number of different kit options which you can hire while you decide what to buy. We've also got good relationships with board shops, and can help you avoid the pitfalls of buying a dud.
Taking Windsurfing
Further
That's never Glossop!
Quite right! Learn windsurfing on Torside and enjoy your trips abroad even more. There are plenty of windsurfing centres offering improver clinics abroad, and after learning the basics at Glossop, your summer holiday is good to go! If you are young and ambitious, becoming one of our RYA instructors could help you get a summer job in a holiday centre like this.