Juniors' Club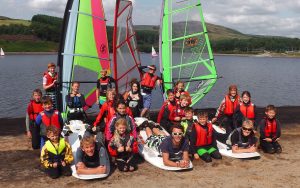 Half the attraction of our Juniors' Club sessions is not the sailing; it's the socialising! From Whitsun and throughout the summer, we have programmes of fun and structured water-based activities for juniors on Friday nights and Saturdays. Juniors' Club is open to 8 to 18-year-olds with parents and carers in attendance. Grown-ups are also encouraged to help and gain skills too!
Junior pathway
Glossop Sailing Club is an RYA OnBoard Approved club,
and all our activities follow the RYA's established best practice. Through these OnBoard events, the club organises taster events for local youth groups and schools, and gives our junior members opportunities to try out and progress their skills in sailing and windsurfing with no limit on their ambitions. Many of our past juniors now have professional careers built on this experience.
Use this Junior Pathway to discover the activities that we offer to our junior sailors.
Saturday afternoon race training sessions prepare our more competitive sailors to compete in the Glossop team against other clubs in junior events around the North West, and against national youth sailors in the RYA Zone Squad events.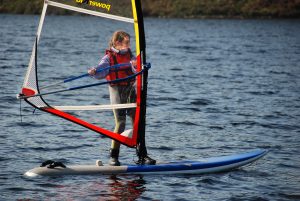 Our Saturday windsurfing sessions introduce juniors from 9 years old to the sport, with opportunities to progress to racing for those that are keen. We have a range of boards and rigs suitable for juniors in various wind conditions. These include the club's Bic Techno boards – the national and international junior race board.
We are home to the highly successful Glossop Gladiators T15 team. RYA Team15 offers young people two opportunities; to be part of club sessions, and to participate in the Interclub events where your team of up to 15 people aged 16 and under goes head-to-head with other teams in the region to decide an overall regional champion.
Powerboat training
We actively encourage our juniors, and their parents, to become competent powerboat drivers and help us man the safety boats that are an essential part of ensuring safe water-sports sessions.
Juniors from the age of 12 can take the RYA Level 2 Powerboat Handling course and drive the safety boats while accompanied by a qualified adult. Most young people need no encouragement and enthusiastically take up the challenge!
Junior boats we sail
Optimist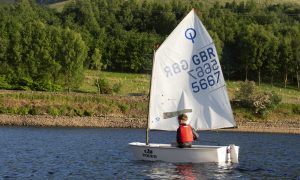 The Optimist is the original safe and stable flat-bottomed, sprit-sail dinghy, or more popularly "the bathtub that breeds the best young sailors". The Optimist holds two youngsters from 8 years old for training, and is raced competitively single-handed. 70% of medal winning Olympic helms started as Optimist sailors.
Topper
The Topper is perfect for beginners and youngsters from age 12 to teens because it is robust, simple to rig, and can be reefed in strong winds, inspiring confidence in young novice sailors. Durability and popularity mean that there is a large second-hand market.
RS Feva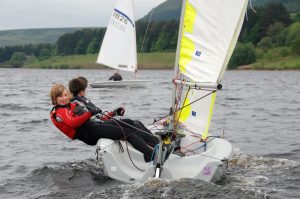 The RS Feva is the entry-level 2 or 3 sail asymmetric racing dinghy from Racing Sailboats. Easily handled by two teenage sailors, the Feva is confidence-inspiring and an ideal training boat for juniors progressing from social to racing experience.
Laser
The Laser is a popular one-design racing boat for teenagers and adults, and offers a more adrenaline-packed race performance experience. It is easy to tow and handle, rigging takes minutes, virtually no maintenance is required and the resale value remains high.
Laser rigs
Three simple, interchangeable Laser rigs take the growing sailor from the Optimist and Topper to youth Laser Class Racing events with the 4.7 rig, and then on to the Radial sail (5.7sqm) for teenagers and lighter weight sailors, or the full rig (7.06 sqm) for 12st / 80kg plus sailors. The hull and spars remain the same, with the only difference being the choice of sail and lower mast.