Torside Reservoir is a superb Sailing venue. The prevailing winds blow along the length of the lake, with more sheltered areas on the southern shore, making the reservoir suitable for beginners and experts alike.
How Do I Start?
Easy: come and talk to us! We're proud of our reputation as a friendly and inclusive club: whatever your skill level , we'll introduce you to the appropriate members. Our volunteer club  members are RYA instructors for both juniors and adults, and we run RYA training courses for novices and improvers in our club dinghies. The RYA website has details.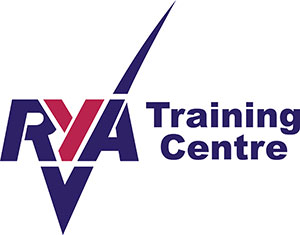 Adult Training
Adult training courses are run for our members from our site at Torside Reservoir, usually last the equivalent of two days (some courses may be 4 x half days) and are led by qualified RYA instructors. The course fee covers all instruction, use of training equipment, wet suit, spray top and buoyancy aid. RYA log books plus certificate will be issued upon successful completion. The maximum student to instructor ratio is 6:1.
Adult Coaching
If you already have some sailing experience, talk to our members: we're happy to help you join in. Are members volunteer to run sessions for coaching to our members to develop you skills and confidence.
Social  & Family Sailing
Come and enjoying being out on the water in our beautiful Peak District surroundings the club members do duties to enable us to sail with confidence and are open to members on Saturdays afternoons, Sundays from 11am and Wednesday Nights during Spring/ Summer months.
Dinghy Racing
Want to improve your sailing? A great way to hone your skills is to start racing… Club racing at Glossop is fun and friendly, and even though our sailors include National and European champions, everyone will be pleased to offer help and advice. For a brief explanation of how Club race results are calculated, see Race Results for Dummies. The club racing results are published here.
As well as our own Racing Series, we also host class open events where our sailors can compete with some of the best in the country.
Members and visiting helms can compete for trophies and prizes; these include several races specifically for novices and juniors, and trophies for fleet and endurance racing.
The Boats We Sail
We like to see enthusiastic club members regularly out on the water, so we're keen for you get the best advice and encouragement for developing your sailing skills and buying the right boat. If you are an experienced sailor, we'll introduce you to like-minded sailors. These are some of the boats our members sail:
Laser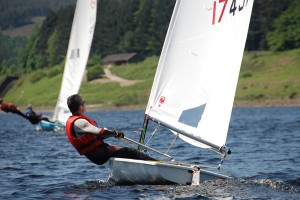 The Laser is a very popular one-design racing boat, and race-pack upgrade kits allow an older boat to remain competitive with the latest specification Lasers. It is easy to tow and handle, rigging takes minutes, virtually no maintenance is required and the resale value remains high.
Supernova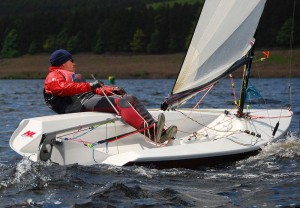 Like the Volkswagon Golf, the Laser was a 1970s design classic, but unlike the Golf, the Laser has remained virtually unchanged for 40 years. So, what does a true 21st century single-hander look like? Answer: the Supernova MkII. With an 8 metre fully battened sail on a sleek open-transom hull, the Supernova is lighter, more exciting and more comfortable than a Laser, and is hugely popular with our racing helms.
Phantom
What do you sail if you are too big for a Laser or Supernova? The Phantom is a high performance single hander racing dinghy for experienced helms of more than 95kg. With a lightweight hull and large rig, the Phantom planes easily, offering great acceleration in a blow, and is the performance boat of choice for the big guys.
Solution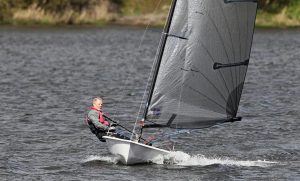 Ovington Boats, who make the Phantom, have now created the Solution, a hiking dinghy with all the finesse of the Phantom but designed to provide exciting but manageable sailing for helms in the 65 to 85kg weight range. The Solution has a light epoxy hull, self draining cockpit, and a modern semi battened 8.5 sq. metre sail.
Laser 200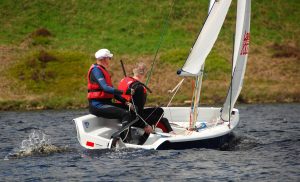 The Laser 2000 has a high confidence factor thanks to a real 'sit in' feel. Newcomers feel safe with different power for different winds using the reefing mainsail and furling jib, and the rig's versatility allows you to race or take it easy on a relaxing family day out. Although heavier than pure-bred racing dinghies, the Laser 2000's versatility makes it a popular family boat.
RS Vision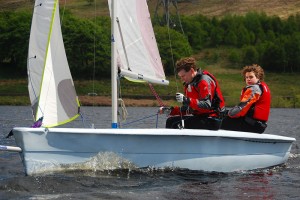 The RS Vision is a perfect all-round family sailboat: it has a tough and virtually maintenance free polypropylene hull, a furling jib and a choice of durable Dacron sail for cruising or a Mylar mainsail with gennaker for racing. We run our training courses in the club's Visions.
RS200
Perfect for moderate weight racing teams, the RS200 is popular with mixed crews, couples, young sailors and families. The fittings layout is designed for all combinations of strength and experience in the helm and crew, with low sheet loads so even the lightest of sailors can enjoy the ride.
RS400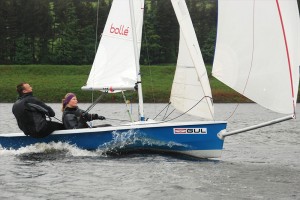 The RS400 is one of the UK's most popular championship racing classes, offering speed and manoeuvrability for agile and experienced sailors. The RS400 delivers maximum power from the large asymmetric spinnaker rig for high speed competitive racing.
Javelin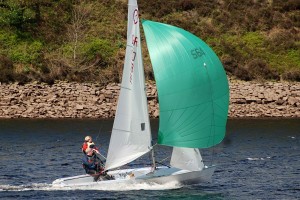 The Javelin is a very fast two-handed racing dinghy with conventional spinnaker and crew trapeze. Its large sail area and ultra-lightweight hull gives the Javelin amazing acceleration and allows it to exceed speeds of 25 knots, giving an exhilarating "ride" and exciting fleet racing for the expert, National and International competition sailors in the Club.
Handicap System
Our club members have many different dinghies of different speeds and performance. All of them race together, and a Portsmouth Yardstick handicap number is applied to the elapsed finish times to even out the performance between faster and slower boats and allow all our members, regardless of the boat they sail, to compete on equal terms in our race series.